Welcoming you to our little corner of the world.
TranzAlpineHoney has been a family business since early 19th when Allen Newton collected his first swarms from the Lyndhurst school bell tower in Mid Canterbury New Zealand and carried them home to the family farm in sugar sacks. Pre World War II (early 1930s) the Newton family ran a farm and forty beehives producing up to 3 tons of honey.
Derek remembers his father Allen placing a small stepladder behind a seven story beehive in 1958. He climbed the ladder, took of the lid, lifted the corner of the sack mat, climbed down and said to Derek "climb up, look in and tell me what you see". Derek did so and reported "It's chocker block". Derek never recovered from that experience!
Within 5 generations the Robins and Newton families had sparked the bee keeping passion in the region and raised 12 commercial beekeepers in New Zealand.
"Your best hive should be your average" Ron & Roy Newton
"TranzAlpineHoney has been an important part of my life since joining the Newton family in 2005. We look forward progressing further with the organic honey business that will continue to stay in the same family for many more years to come." Yuriy Soshnikov, Managing Director
Right from the beginning we realised the importance of producing honey that's sustainably produced and organic.
It's important to the bees, the quality of the honey, the land and for you. And for 100 years my family have kept this knowledge at the heart of how we produce honey for you.
Not everyone can live in such a pristine part of the world, which is why we love that we can share our organic honey with you. So you can enjoy honey without synthetic chemicals, GM sprays, antibiotics or other pollutants.
And you're not alone in enjoying our honey. 
Right from the beginning we learned to keep our honey production as natural as possible.
Honey-lovers in 26 countries and five continents enjoy TranzAlpineHoney. But whilst so many people enjoy our honey (we're New Zealand's largest Organic honey producer and exporter), we still produce our honey with care, attention and respect to the bees, the land and accountability to you who enjoys our honey.
"Hard work never killed any man, but broke many a man's spirit" - Ron & Roy Newton
Let us share a bit more of our family's story with you. If you've got any questions or comments for me and the team please contact us.
Or you can see our range of organic New Zealand honey in our online shop.
100 Years of Newton/Robins Family Beekeeping History
1910
Len Robins, aged 20, starts bee keeping in Winchester, South Canterbury, NZ
1920
Allen Newton (Rhonda's brother) starts bee keeping by collecting bee swarms from the school bell tower and carrying them home in sugar sacks
1930's
The Newton family has 40 bee hives which grows to 120 by 1943
1945
Len Robins marries Rhonda Newton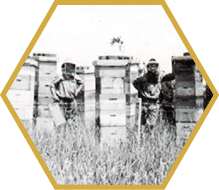 1946
Ron and Roy Newton (Rhonda's brothers) run around 1000 hives between Rakaia and Rangitata rivers, and Selwyn their other brother build his hives up to around 200
1960
Lens sons Dick and Eric become bee keepers both in the family business and independently
1987
Derek joins family business and take over its main operation
1993
We get our BioGro™ organic certification
2008
TranzAlpineHoney New Zealand brand established with the help of Derek's stepdaughter Victoria and her husband Yuriy
2018
Victoria and Yuriy take over TranzAlpineHoney and continue to run as family business